What is the Chrysler Airflow Concept?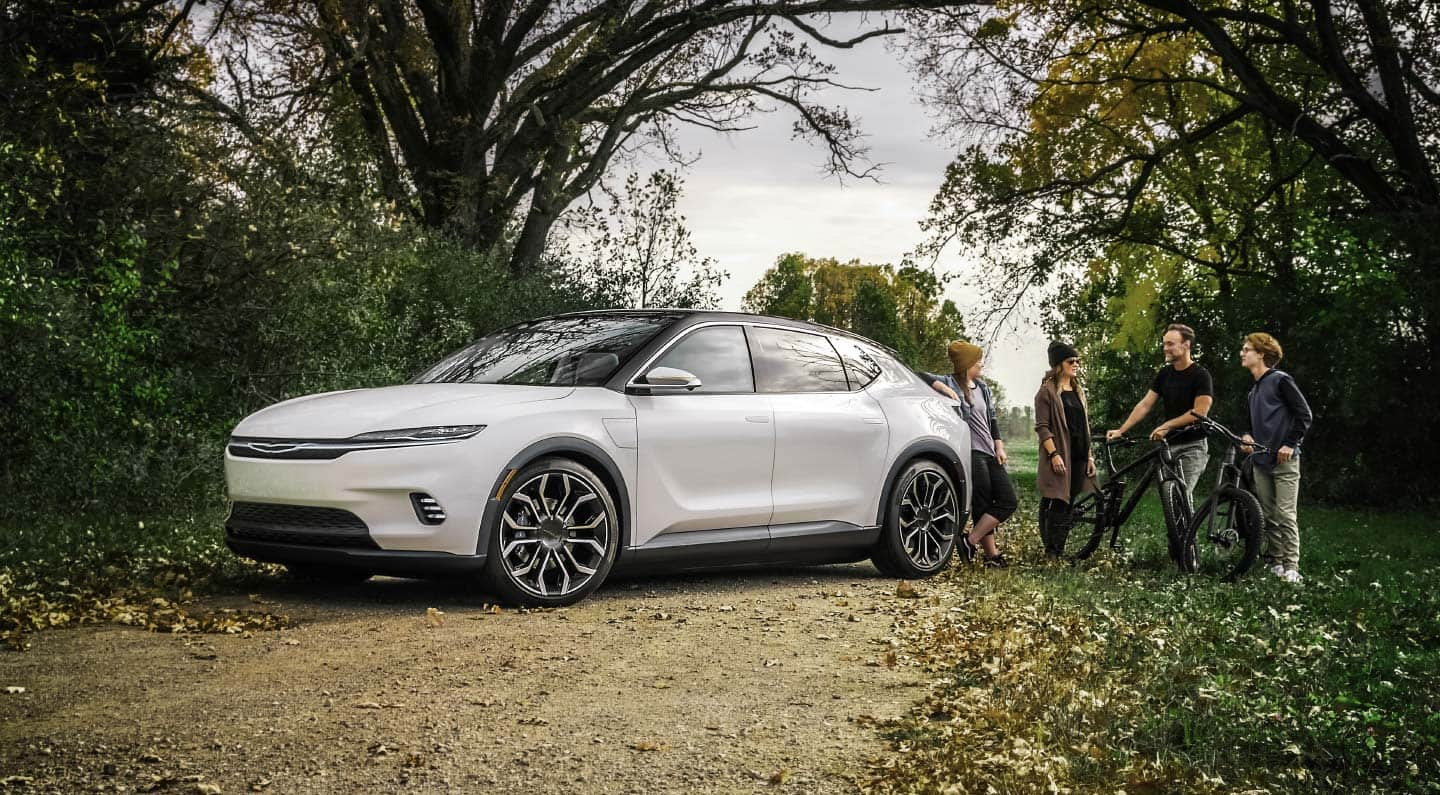 What is the Chrysler Airflow Concept?
Check out our Chrysler Inventory here at Pinckney DCJR!
Chrysler has officially released its pans for the Chrysler Airflow! This vehicle offers consumers a reimagined look at Chrsyler's journey into a fully electric future. It will feature several new color schemes, such as a new Galaxy Black exterior and Cyprus Copper interior and exterior accents, which will give the Chrysler Airflow a sleek contemporary look. This new Chrysler Airflow will be available in 2025, and it's set to revamp the entire automotive landscape with a fully battery-electric vehicle that will improve the driver experience. For more info on the Chrysler Airflow, continue reading down below!
Chrysler Airflow Graphite
The early stages of the Airflow development included several new design options for its all-electric concept. With the new Chrysler Airflow Graphite Concept, you get a Galaxy Black exterior body color taken from a sophisticated urban mindset. The Galaxy Black trim will provide a stark contrast to the Arctic White, previously shown on the Airflow Concept. In addition to this gorgeous hue, there are Cyprus Copper accents that highlight the top of the panoramic glass roof and select services of the spectacular 22-inch wheels. The interior of the Airflow Concept is incredibly spacious with a rich interior feel that will make you feel like you're in a first-class lounge as you get sustainable materials with a claiming color palette that gives you a greater feeling of spaciousness and comfort.
The Future of Chrysler
The Chrysler Airflow Concept represents a new direction of the Chrylser brand as it highlights a unique and dynamic design with advanced technologies and connectivity, which affirms the company's transformation to all-electric transformation. This vehicle is enabled by the STLA Brain and STLA SmartCockpit, which always keep things fresh. The Airflow Concept uses these advanced technologies to deliver an experience with multi-layered, high-contrast graphics and terrific details that will give you a clean and sophisticated appearance that is very easy to use. Each screen gives you a personalized experience that gives you access to the digital world via connected entertainment and apps. Each seat also has a built-in camera, enabling you to participate in a group conference call from the comfort of the cabin. In addition, there will always be over-the-air updates so that you can keep up to date with all the latest tech and apps.
Fully Electrified and Connected
To go along with its fully connected user experience, the Chrysler Airflow Concept will give you a sneak preview into the brand's commitment to providing consumers with a fully electric vehicle lineup by 2028. With tons of industry-first technologies, the Chrysler brand will delight customers and influence the industry to become cleaner and safer. The Chrysler Airflow Concept comes with STLA AutoDrive, which comes with Level 3 autonomous driving capabilities which are upgradeable. The concept also has all-wheel-drive capability and is powered by two electric motors, one in the front and one in the rear. In addition, the battery is set to deliver 400 miles on a single charge.
Dynamic Language
The design of the Chrysler Airflow Concept envisions the next generation of premium transportation and provides you with an interactive user experience. There is a long wheelbase and a wide track with 22-inch wheels and tires, which are enhanced visually with accent color cladding. In addition, the Chrysler Airflow's quiet ride works in harmony with the entire aesthetic as the Chrysler wing logo is tied into a cross-car grille light blade which is illuminated with crystal LED lighting. In addition, the Airflow Concept features a welcome, departure, and animated lighting, including a unique Aqua, which will signify the vehicle charging. Inside the cabin, there are soft leather-wrapped seats that achieve a smoother atmosphere, while the seating itself uses an enhancing comfort and roominess while allowing for maximum legroom.
Get More Info on the Chrysler Airflow Concept here at Pinckney DCJR
With the Chrysler Airflow, you get a fully electric vehicle that is never short on technology. Do you want to know more information about the Chrysler Airflow? Then head down to Pinckney DCJR and speak with one of our knowledgable and friendly sales team reps, who will be more than happy to answer any questions you may have! While you're here, be sure to check out our complete inventory and schedule a test drive of any of the vehicles on our lot. If you find something you like, be sure to check out our finance center, where we will work with you towards a deal that will suit your budget. Even if you can't make it down to the dealership right now, you can still view our entire inventory here on our website.