Top Grand Cherokee L Accessories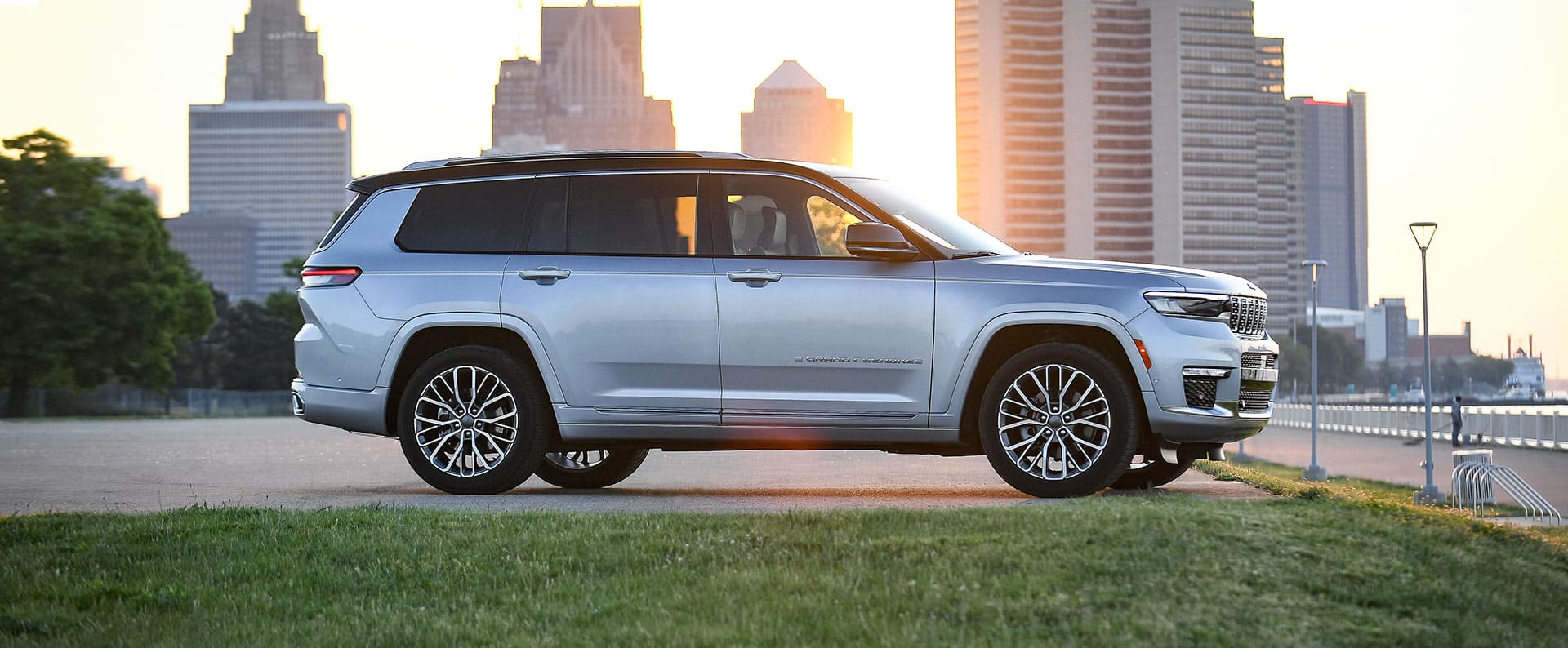 Top Jeep Grand Cherokee L Accessories
Get your Grand Cherokee L here at Pinckney Dodge Chrysler Jeep RAM
For the last 30 years, the Grand Cherokee has been Jeep's leading SUV due to many powerful engine options, tons of exciting features, and incredible driveability. Now the Jeep Grand Cherokee is getting even better with the release of the Grand Cherokee L! The Grand Cherokee L is a three-row SUV with plenty of room for up to seven passengers while still leaving room for all of their stuff while still providing a ton of power thanks to either a V6 or a V8 engine. If you're looking for advanced tech, the Grand Cherokee L has that too, with advances such as wireless Apple CarPlay and Andriod Auto. While it might seem that the Grand Cherokee L is already perfect, there are several accessories available to improve your experience. Below you will find some of the top accessories that you can get to customize the Grand Cherokee L to your liking!
Exterior/Interior Accessories
One of the best things about the Grand Cherokee L is how gorgeous the interior and exterior are. But things can get even better thanks to several amazing accessories; you can customize things however you like. Protect the undercarriage of your vehicle with the available splash guards. You can also get side window air deflectors which allow the windows to be partially down, which allows for a continuous airflow while keeping out inclement weather. As for the interior, there are several wonderful accessories there as well. Protect your floors from dirt and grime with all-weather mats and keep your pets nice and secure with the pet restrain. This will also keep your pet comfortable. The possibilities are endless. Here are some of our favorite accessories.
License Plate Frame
Integrated Side Steps
Molded Splash Guards
Pet Restraint
All-Weather Floor Mats
Pedal Kit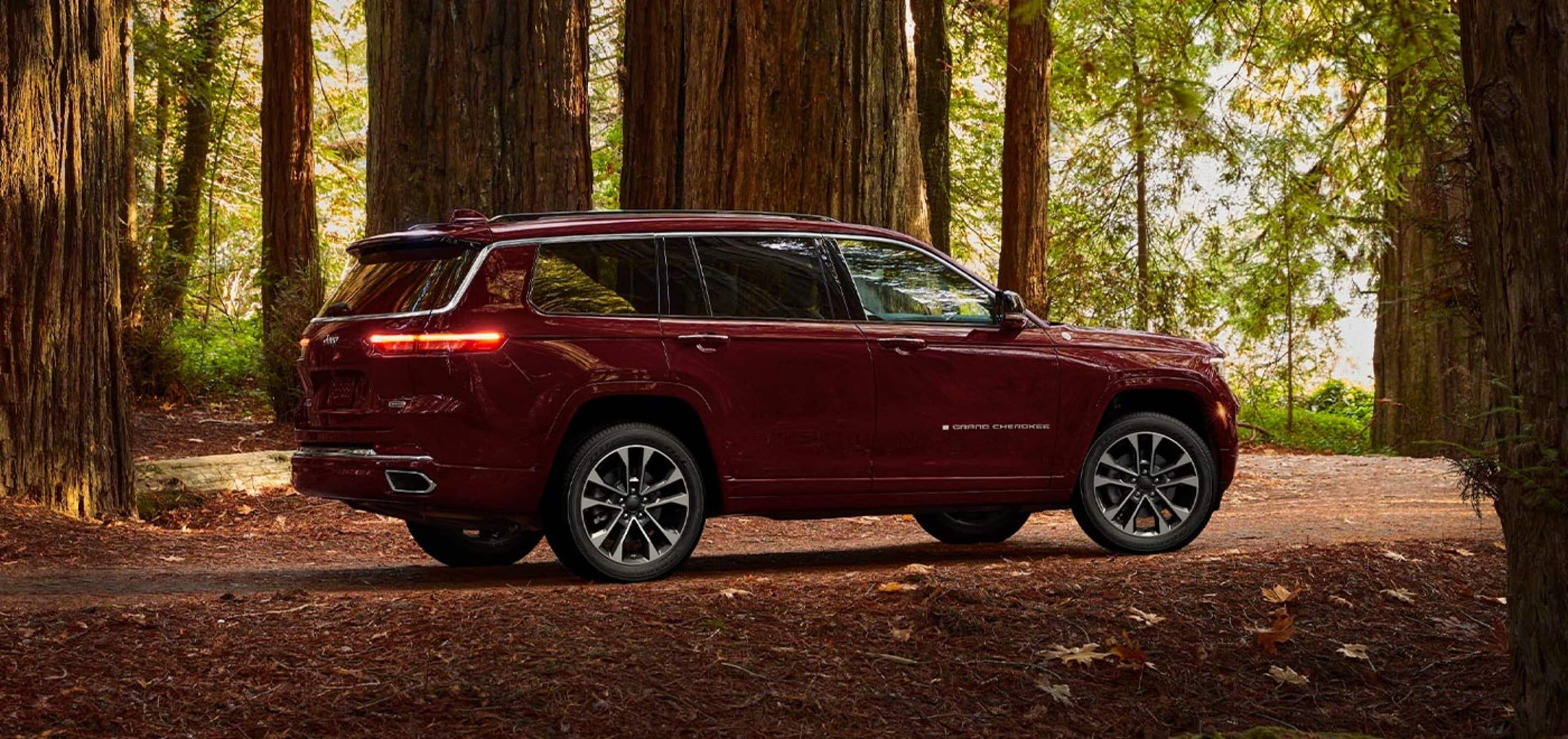 Cargo Management
One of the things many people question when they head off on a long road trip is where they will stow all of their stuff. Luckily, the Grand Cherokee L has you covered with several available accessories such as a cargo net, wintersport carrier, bicycle rack, or cargo carrier. If you are looking to take some smaller items with you, an available cargo bag will fit nicely into the cabin. You can also protect all of this stuff with the carpet cargo mat while preventing all of this stuff from moving or getting damaged. Here are some of the best cargo management accessories!
Wintersport Carrier
Cargo Net
Cargo Carrier
Carpet Cargo Mat
Bicycle Rack
Cargo Bag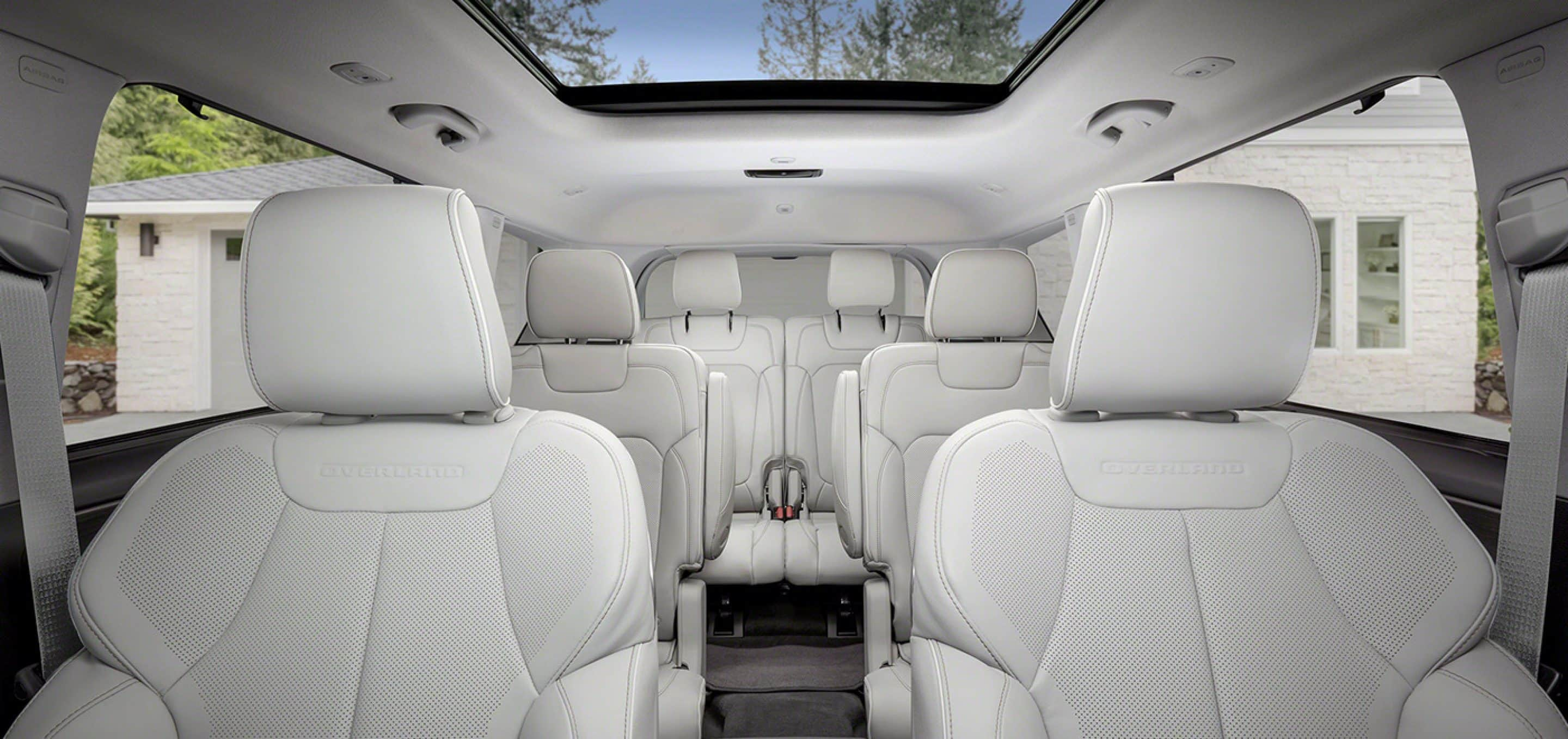 Electronics
When you step inside the cabin of the Grand Cherokee L, you will be immediately floored by the amount of tech it has! It's undoubtedly impressive, but things get even better thanks to several available accessories. An available rear-seat entertainment system comes with a roof-mounted DVD player and a 10-inch display screen. To mount it to the roof of the Grand Cherokee L, there is also a mounting bracket, so it fits up there snugly. Also available are Bluetooth headphones, which come in crystal clear. These fabulous systems are perfect for keeping your kids entertained on those long car trips!
10-Inch Display Screen
Roof Mounted DVD Player
Bluetooth Headphones
Roof Mounting Bracket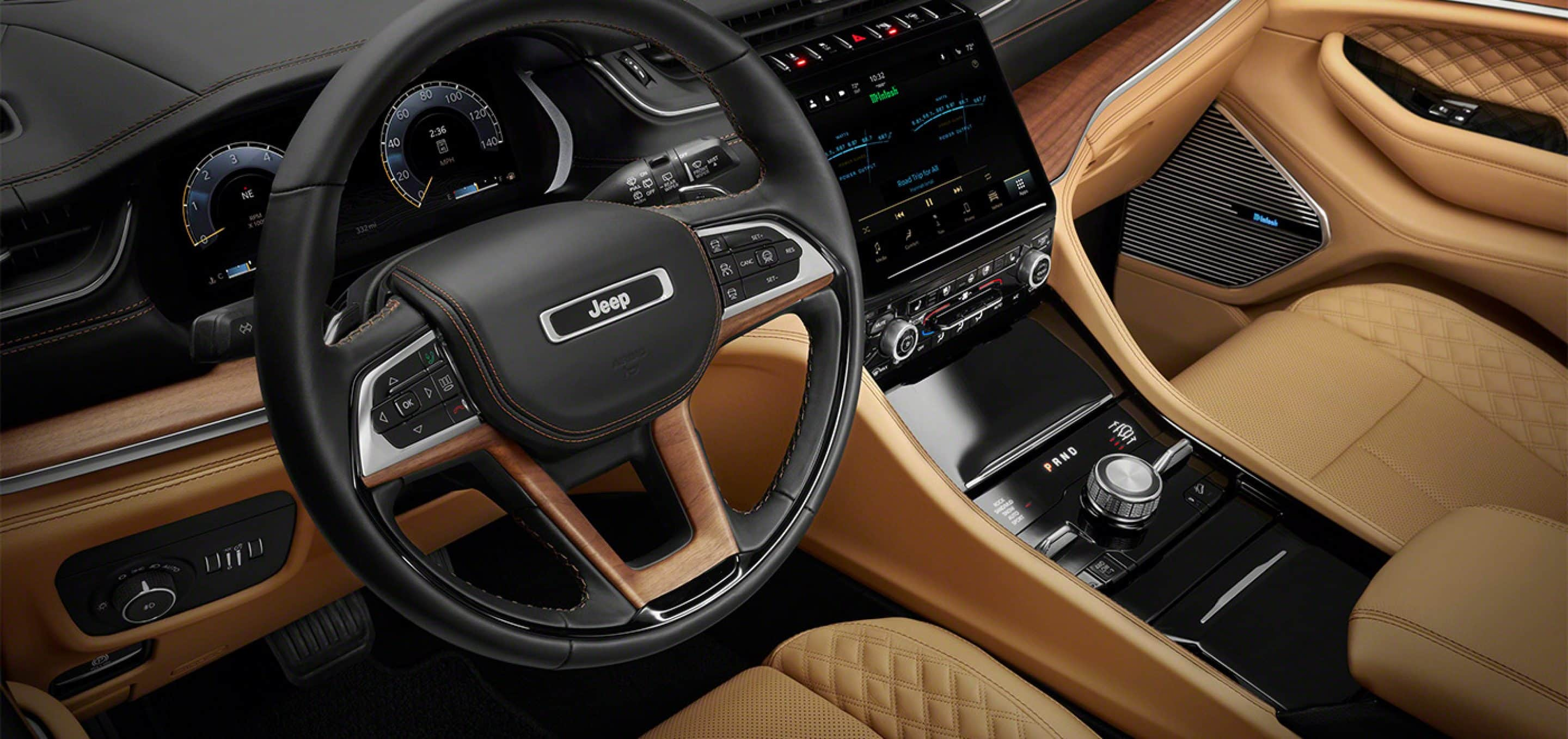 Other Accessories
Wait, we're still not done! There are so much more accessories that the Grand Cherokee L has to offer you! There is a master shield that can protect your Grand Cherokee L from rust. There are several things available for added towing, such as a hitch receiver and a hitch ball. You can even customize your wheels with the tire value steam caps, which look cool.
Master Shield Rust
Hitch Reciever
Hitch Ball
Ball Mount Adapter
Tire Valve Steam Cap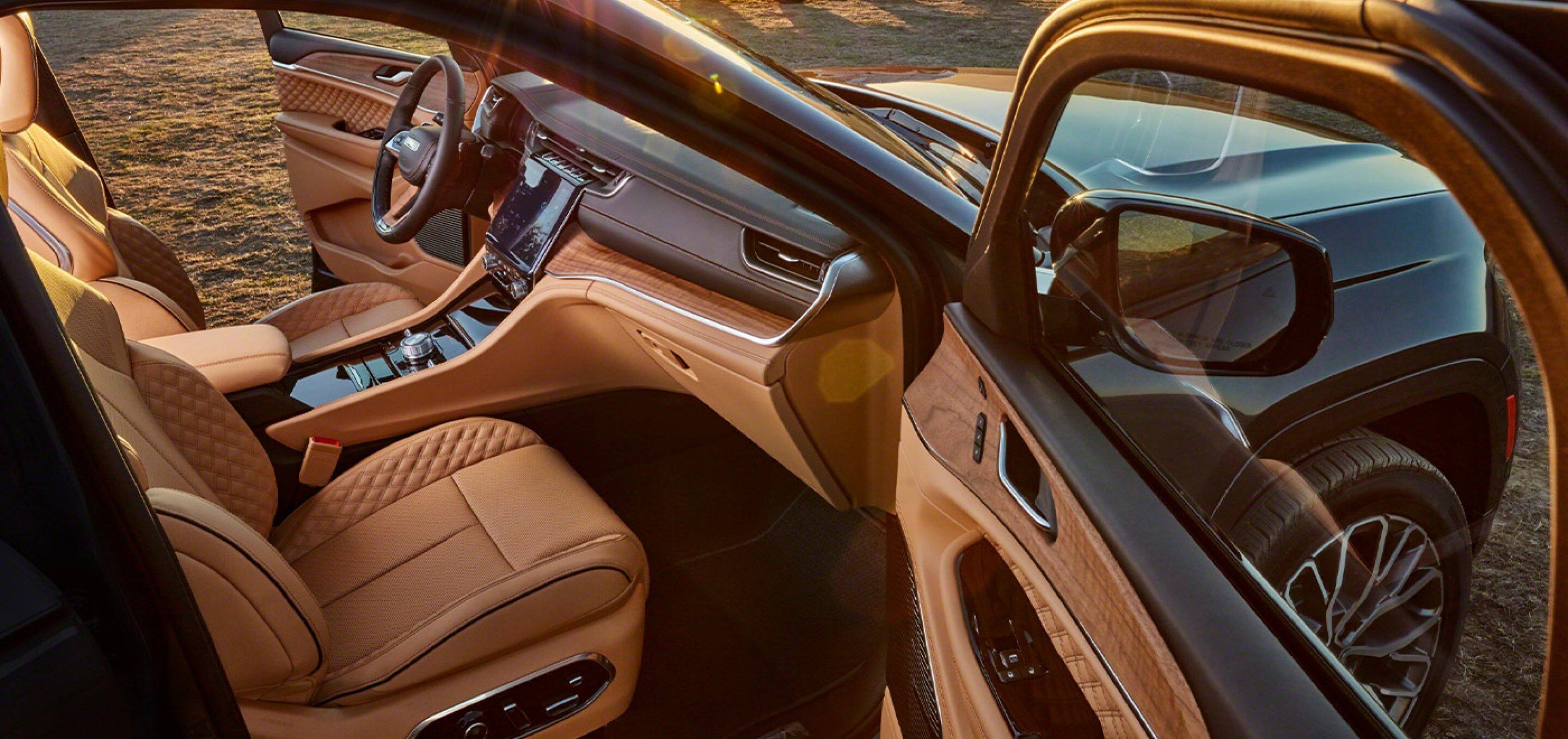 Get your Grand Cherokee L Accessories Here at Pinckney Dodge Chrysler Jeep RAM
As you can see, the Grand Cherokee L has a ton of outstanding accessories that you can get to make your drive even better! You can browse our parts section or order new parts if you don't see what you want. Of course, if you're in the market for the new Grand Cherokee L, we have it in stock! If you're interested in taking a test drive of this one-of-a-kind SUV, head down to Pinckney Dodge Chrysler Jeep RAM and schedule one with our knowledgable staff! If you find a trim you like, we have a full finance department that will assist you. Can't make it to the dealership right now? Be sure to check out our complete Grand Cherokee L inventory here on our website!