Reference Audio Reproduction in the 2022 Grand Wagoneer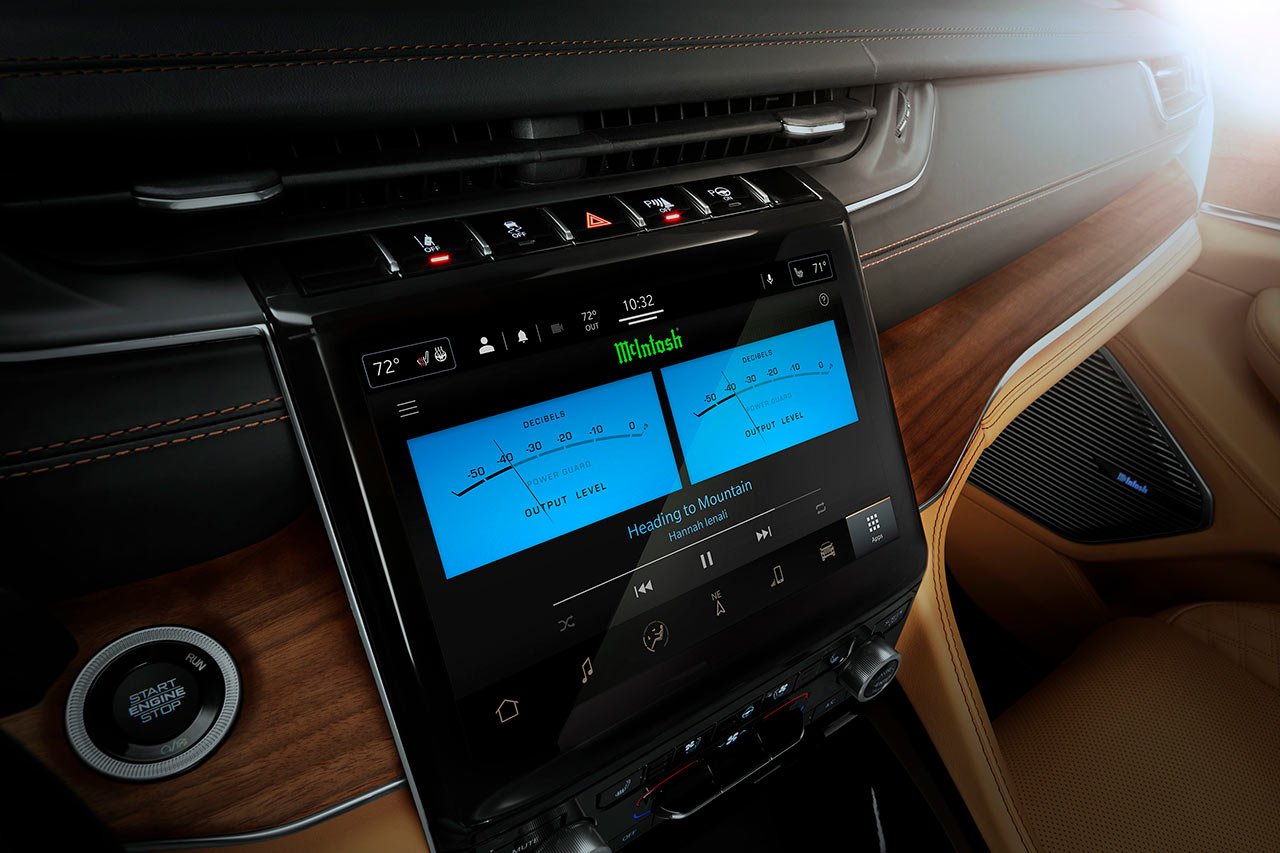 Reference Audio Reproduction in the 2022 Grand Wagoneer
The famous McIntosh blue-lit VU meters are included!
Audiophiles rejoice! No longer do you have to sit in your dedicated listening room surrounded by tens of thousands of dollars of audio gear just to hear good music. You can experience the same level of audio perfection in your 2022 Grand Wagoneer with McIntosh's incredible new MX1375 Reference Entertainment System (RES).
For those who are new to the world of high-end audio, for over seven decades, McIntosh has virtually defined the leading edge of high-end home audio. It is unprecedented that Stellantis and the audio gurus at McIntosh have combined forces to produce the brand's first automotive audio reference system.
"We understand that customers don't just want great sound," said Charlie Randall, President of McIntosh Laboratory, Inc. "They want to get a full sensory experience. And that's why it was so important that we left no stone unturned to deliver a true McIntosh Entertainment System for the Wagoneer. We're thrilled to bring our brand to a whole new group of people who may never have experienced McIntosh before."
Is it as high performance as the McIntosh home equipment?
Yes! To ensure the McIntosh luxury home audio experience was replicated in the vehicle, designers from both companies worked exhaustively to fuse both form and function into the MX1375 Reference Entertainment System. Engineers went back and forth for months between the test vehicle and the McIntosh Reference Room itself to ensure a truly authentic McIntosh experience in a car. The resulting system is revolutionary.
What are the details of the MX1375 system?
The MX1375 System employs 23 specifically tuned speakers, including one of the highest performing 12-inch subwoofers in the industry, and is powered by a 24-channel 1375-watt amplifier. Exclusive to the MX1375 Reference Entertainment System is unique Adaptive 3D Surround Processing capabilities for an unusually immersive listening experience.
And it has the famous blue-lit VU meters?
The designers at Stellantis felt strongly the iconic styling cues of McIntosh systems be reflected in the design of the MX1375 system. This meant the metal ridged control knobs, black trim, and especially the large blue power meters that McIntosh gear is known for.
Pinckney CDJR is the foremost Wagoneer dealer in Livingston County
You can learn more about the Wagoneer and Grand Wagoneer here at Pinckney CDJR, either online or in-person!
We look forward to meeting you!