Mopar Accessories for your Dodge Challenger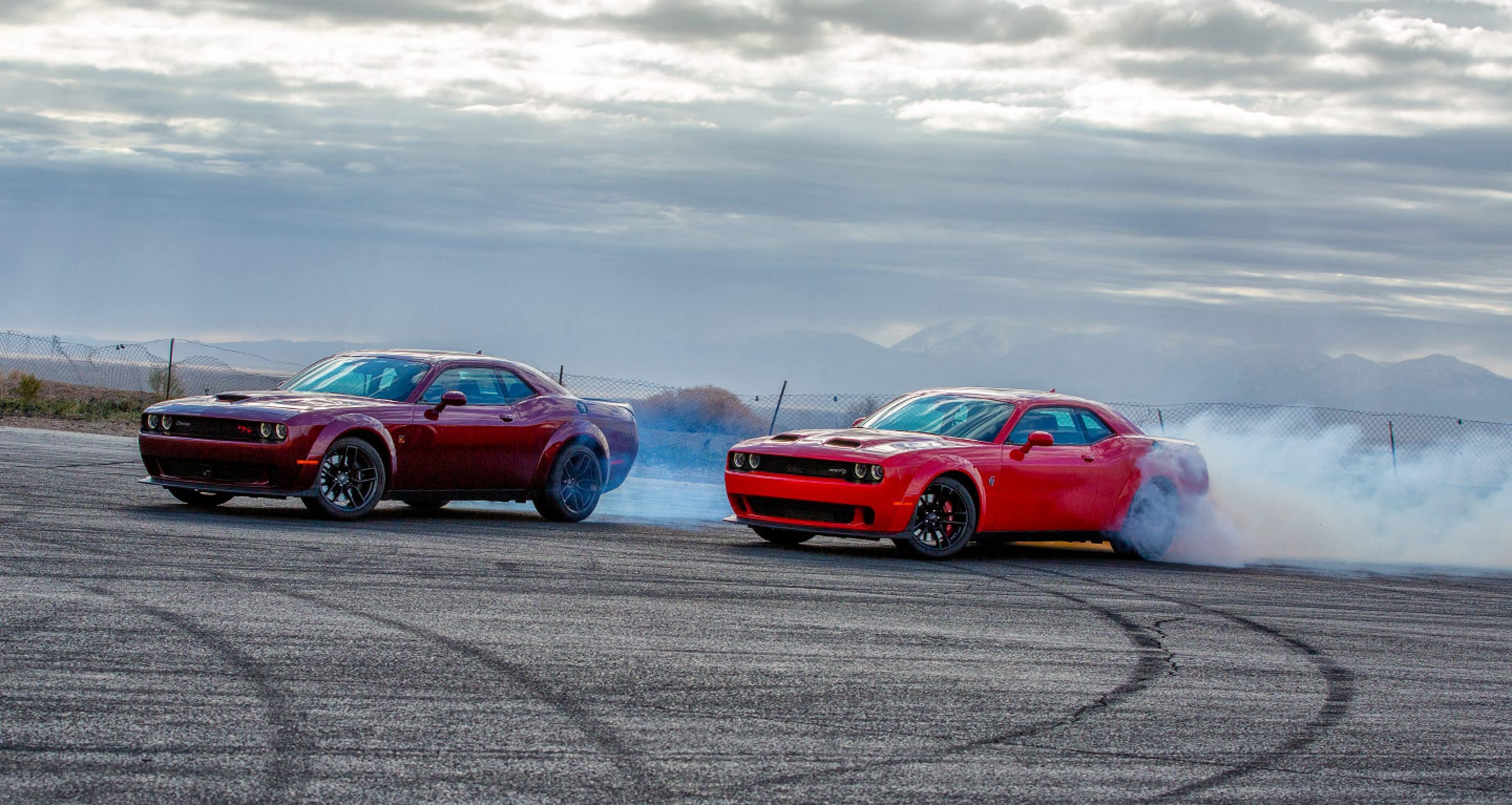 Mopar Accessories for your Dodge Challenger
With countless ways to personalize your ride, the 2022 Dodge Challenger is where ultimate performance meets ultimate customization. So take your seat in your personally designed domain of dominance. From the seven different cloth and leather seating options to the array of seatbelt colors available, the 2022 Dodge Challenger is your very own beautiful beast inside and out. In addition, Mopar accessories allow you to show off your hard-earned muscle with Dodge Challenger emblems that showcase the power hiding under the hood.
Exterior Accessories
When it comes to personalization, the devil is truly in the details. That's why Mopar provides drivers of the 2022 Dodge Challenger to customize almost every feature, including the spoiler, exhaust tips, fuel cap, and more. Pump up the heritage in style with the available Bumble Bee Style Tail Stripe on the Challenger. The Horizontal Racing Stripe available for all Challenger models screams heritage performance. The Mopar Badges add even more attitude to the 2022 Challenger.
Fuel Door
Mopar Badge
Horizontal Racing Stripe
Bumble Bee Style Tail Stripe
Interior Accessories
The Philips Air Purifies the air in the cabin of your Challenger's interior by removing airborne allergens and germs and smoke, and odors. HEPA filter collects fine inhalable particles with diameters of 2.5 micrometers and smaller. It plugs into the 12-volt auxiliary power outlet. Add Mopar all-weather Floor Mats to provide maximum coverage and protect your floor from wetness, snow, mud, dirt, and grime. This four-mat set comes in Dark Slate Gray and features a Dodge logo. The mats pass all production tests for extreme temperatures, weathering, strength, and soiling.
Pedal Kit
Air Purifier
Door Sill Guards
Dodge Logo Floor Mats
Performance Accessories
Mopar Lowering Performance Springs are for Challenger owners who desire a sporty yet comfortable ride. They reduce ride height up to 1.25 for that low, custom look. The high tensile spring material ensures durability. Front Strut Tower Brace transverse-mounted horizontal strut tower brace will enhance structural rigidity, steering response, directional stability, and vehicle handling. The Front Strut Tower Brace is heavy-duty steel supplied with all applicable mounting hardware. The Cold Air Intake System is an easy-to-install, bolt-on system that allows cooler outside air through a directional cone filter and funnels directly into the intake manifold. This kit provides noticeable horsepower and torque gains under varying atmospheric conditions, fits your exact vehicle model, and has been rigorously tested to ensure its unparalleled quality. Mopar's Headlamp Duct Tube conducts cold air from the headlamp port to the Mopar cold air intake system.
Headlamp Duct Tube
Cold Air Intake System
Front Strut Tower Brace
Suspension Lowering Kit
Mopar Accessories for Sale Near Me
Suppose you live in the Pinckney, MI area and are looking to customize your Dodge Challenger, head over and speak with the knowledgeable service team at Pinckney Chrysler Dodge Jeep Ram. In that case, Our service center delivers some of the best technicians around who are trained to work with Chrysler, Dodge, Jeep, and Ram vehicles. If you're looking to get service done on a car, schedule an appointment with us today!