Jeep Grand Cherokee Service Schedule Pinckney MI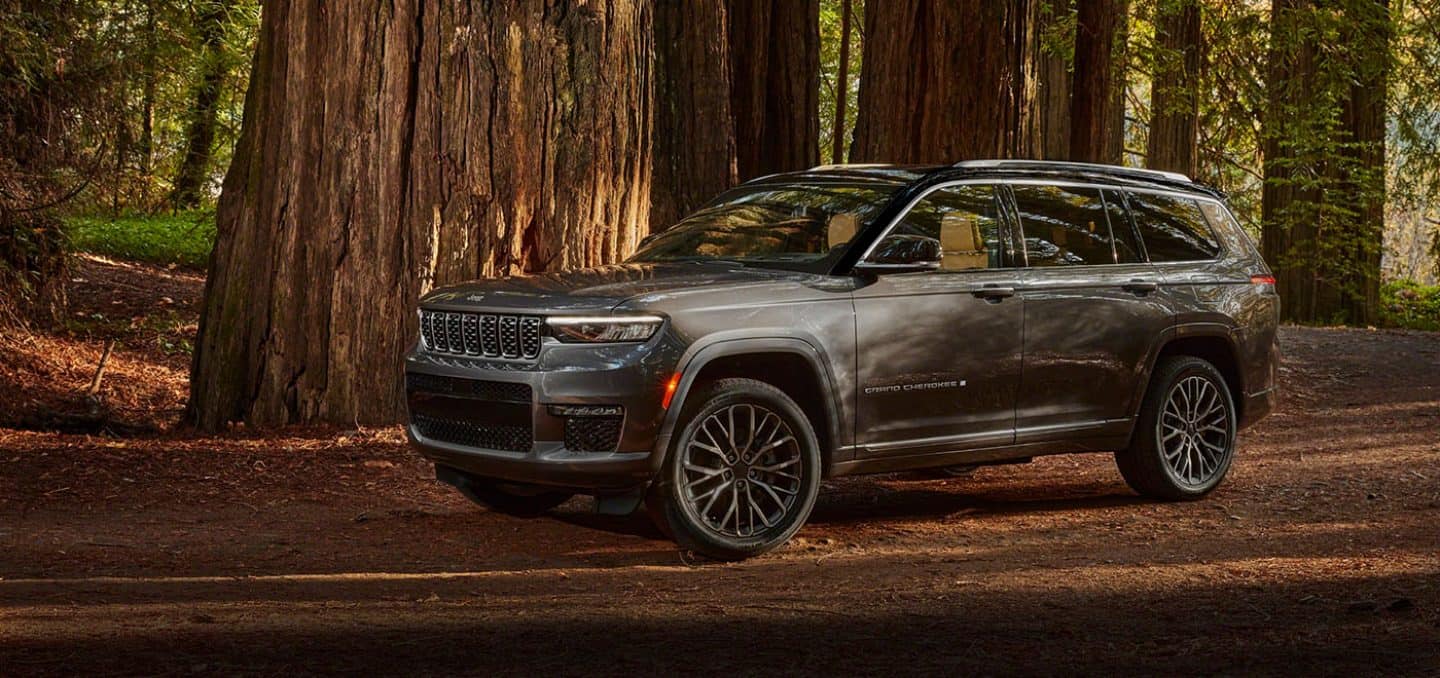 Jeep Grand Cherokee Service Schedule Michigan
Schedule Service at Pinckney CDJR!
The Jeep Grand Cherokee has five trim levels for the 2022 model year, and the whole lineup has plenty of athletic capabilities that will have you bringing out your adventurous side! Especially if you're behind the wheel of a Trailhawk or Overland trim, you'll want to get out and explore the off-road trails! The Grand Cherokee can take on many different challenges and stand up to all kinds of wear and tear. However, it's important that you do your part to keep your Jeep Grand Cherokee in its best possible condition. The best way to do this is to schedule maintenance appointments at regular intervals, so that your Jeep Grand Cherokee always gets the right service it needs, at the right time. Although this may sound like a lot to keep track of, you can make things easier by following a service schedule! Continued down below, we'll give you an example of a service schedule for your Jeep, and let you know how you can schedule service at Pinckney CDJR!
Why Use a Maintenance Schedule?
Using a maintenance schedule is a great way to keep track of the maintenance that needs to be done on your Jeep Grand Cherokee! Plus, you don't have to worry about specific dates or times, because this maintenance schedule is measured in miles. Simply keep an eye on your odometer, and get your car serviced at your own pace. Plus, you'll only get more and more familiar with your car over time, so following this schedule will get easier as you go! Soon, you'll be in the habit of bringing your car in for service, and caring for your Jeep Grand Cherokee will be second nature. Keep reading to learn how to service your car at 8,000, 16,000, 32,000, and 64,000 miles, and even beyond!
Jeep Grand Cherokee Service Schedule
8,000 Miles
Around six months of ownership, the average driver will accumulate about 8,000 miles! This is the first benchmark for your Grand Cherokee's maintenance. At this point, it's time to cover all of the basics. This includes an oil change, and changing out the oil filter for a new one. Oil changes are one of the most common services for your Grand Cherokee, and getting them done often will keep your engine healthy, and allow your SUV to run as efficiently as it can. You should also schedule a tire rotation at this point, so that all four of your tires will get the same amount of wear, making them last longer overall!
16,000 Miles
Once another 8,000 miles have passed, you'll probably be around the 1-year mark of driving your Jeep Grand Cherokee! As you can see, you've now doubled the amound of mileage on your SUV, so it's time to bring your car in for maintenance once again. Start by repeating the services of your 8,000-mile appointment, including your tire rotation, and oil change. Plus, you should also check on your air conditioning filter, and change it our if needed to keep your cabin fresh and clean. For those who spend a lot of time on the trails, be sure to have your engine filter changed, as it may accumulate dirt and dust. Lastly, be sure to have your exhaust system inspected. You want to spot any potential problems eary on so that your SUV can continue to run efficiently!
32,000 Miles
At this point, you've doubled your mileage once again on your Jeep Grand Cherokee! Although this is the next major benchmark we're discussing, remember that you should still be getting your oil changed roughly every 7,000-8,000 miles, so you should definitely have that done in the meantime. However, once your odometer hits 32,000 miles, you should also have your brakes inspected for wear. Your mechanic will check on your brake pads, and swap them out for new ones if they're beginning to wear out. They'll also change your spark plugs, as well as your engine air filter, and air conditioning filter. For 4X4 models, you should also have your disc brakes adjusted at this point.
64,000 Miles and Beyond
At the 64,000-mile mark, you've had plenty of time to get comfortable with the needs of your Jeep Grand Cherokee, and services like oil changes and tire rotations will be part of your regular routine! Remember, this is just a guideline, and you should always feel free to tweak your services to fit the unique needs of your vehicle. At 64,000 miles, you can repeat the services of your 32,000-mile appointment, and also have your transmission fluid inspected. Check on your brake lines, engine coolant, and your tires, to see if it's time to swap them out or a new set. By maintaining your Grand Cherokee regularly, you can expect it to last for years to come!
Schedule Service at Pinckney CDJR!
If you're ready for your first appointment to service your Jeep Grand Cherokee, make your appointment with us here at Pinckney CDJR! Here at our dealership in Pinckney, Michigan, our certified technicians have the skills necessary to care for your Grand Cherokee. You can schedule with our service center using the online request form here on our website, or by giving us a call here at Pinckney CDJR! We also offer service specials to get you a great deal, and we can even order and install any parts and accessories you might need! If you're in the market for a new Jeep, be sure to check out our new inventory right here online. From all of us here at Pinckney CDJR, we look forward to working with you soon!