Details of the 2022 Dodge Charger Pinckney, MI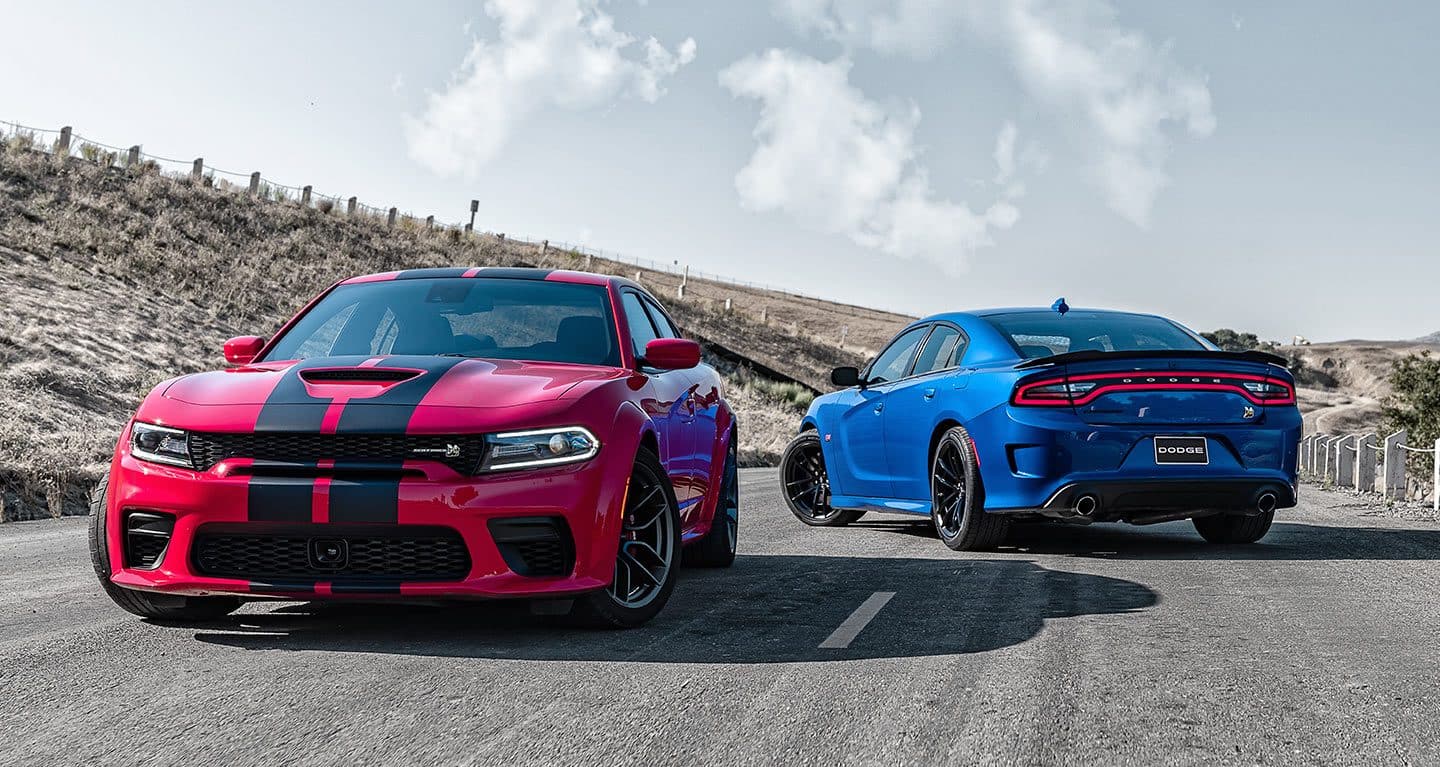 Details of the 2022 Dodge Charger
Check Out Our New Inventory!
The Dodge Charger is an iconic vehicle, known for its speed and performance. The Charger has a classic racecar silhouette, with streamlined front and rear fascia, with functional performance features like spoilers, cold air intake, and hood scoops. If you're looking for a bold vehicle that is sure to get you noticed, then the Dodge Charger is the car for you, as it offers tons of eye-catching color options like Sinamon Stick and GoMango. Not only that, but the 2022 lineup offers five different trim levels, with engines that start off strong, and make their way up to totally mind-blowing! When you're behind the wheel of a Charger, you won't be able to help but turn heads. For the 2022 model year, fans of the Charger will be glad to learn that all your favorite features have been carried over from previous versions! Plus, the new Charger has an upgraded security system that only makes it better than before. To learn more about the ins and outs of the 2022 Dodge Charger, keep reading!
2022 Dodge Charger Trim Level Lineup
As we mentioned above, there are five different trim levels offered for the 2022 Dodge Charger lineup. These trim levels are the SXT, GT, R/T, Scat Pack and SRT Hellcat. Starting with the SXT, this model features 17-inch wheels, a remote start system, a leather-wrapped steering wheel, and dual zone automatic climate control. The G/T introduces larger, 20-inch wheels, LED foglights, and heated outside mirrors. Moving up to the R/T, you'll find features such as active exhaust and a functional hood scoop. The Scat Pack is up next, with some additional comfort and convenience features such as a bold interior design with sport seats, a heated steering wheel, and heated front seats. Last but not least, the SRT Hellcat Redeye is the final trim. This model is also available in the Widebody configuration, which adds 3.5 inches of width, as well as wider Pirelli performance tires.
What are the 2022 Dodge Charger's Powertrain Options?
For the five different trim levels available, there are also four distinct engine options for the 2022 Dodge Charger. The standard engine, found on the SXT and GT models, is the 3.6-liter Pentastar V6. This engine is rated at up to 300 horsepower and 264 lb-ft of torque. Next up is a 5.7-liter HEMI V8 engine that kicks out 370 horsepower and 395 lb-ft of torque, and is found on the R/T trim level. For the Scat Pack trim, the Dodge Charger kicks things up a notch by introducing a 392-cubic-inch 5.7-liter HEMI V8, fondly known as The 392. The 392 supplies the Scat Pack with 485 horsepower and 475 lb-ft of torque. Rounding out the list is the legendary SRT Hellcat Redeye. This engine demonstrates the way Dodge is always willing to push the boundaries of what's possible for a performance sedan, with its supercharged 6.2-liter HEMI V8. This engine has become synonymous with Hellcat vehicles, and provides up to 717 horsepower and 650 lb-ft of torque.
What Performance Features does the 2022 Dodge Charger Offer?
As we all know, the Dodge Charger is known for its outstanding capabilities, and the performance features that make it all possible! For example, the SRT Hellcat Redeye can accelerate from 0 to 60 miles per hour in just 3.6 seconds. Not only that, but it also maxes out at a top speed of 203 miles per hour, making it the fastest four-door muscle car in the world. As for its quarter-mile, the Hellcat Redeye clocks in at just 10.6 seconds when traveling at 129 miles per hour. This sort of capability is helped by the Charger's TorqueFlite automatic transmission, with 160-millisecond shifts. The Hellcat and Scat Pack models also feature Launch Control, Launch Assist, and Line Lock. Launch Control helps reduce any slippage between the tires and the road, to optimize your acceleration while traveling in a straight line. Launch Assist will help further maintain traction by automatically adjusting the amount of torque delivered from the engine to the wheels as soon as you accelerate. Lastly, line lock is what allows the Charger to create its signature burnout clouds by holding the car still via the front brakes, while allowing the rear wheels to spin.
Find New Dodge Inventory at Pinckney CDJR!
If you're interested in learning more about the 2022 Dodge Charger, we invite you to call or visit us here at Pinckney Chrysler Dodge Jeep Ram! Our friendly and knowledgeable staff will be happy to answer any questions you may have, and you can view all our new Dodge inventory in-person at our showroom in Pinckney, Michigan. You can also check out our current listings right here on our website under the New tab. You can also apply for financing, and get an estimate for your trade-in value, all online! However you choose to shop, we look forward to working with you soon here at Pinckney CDJR!