2023 Wagoneer L and Grand Wagoneer L Announced Pinckney MI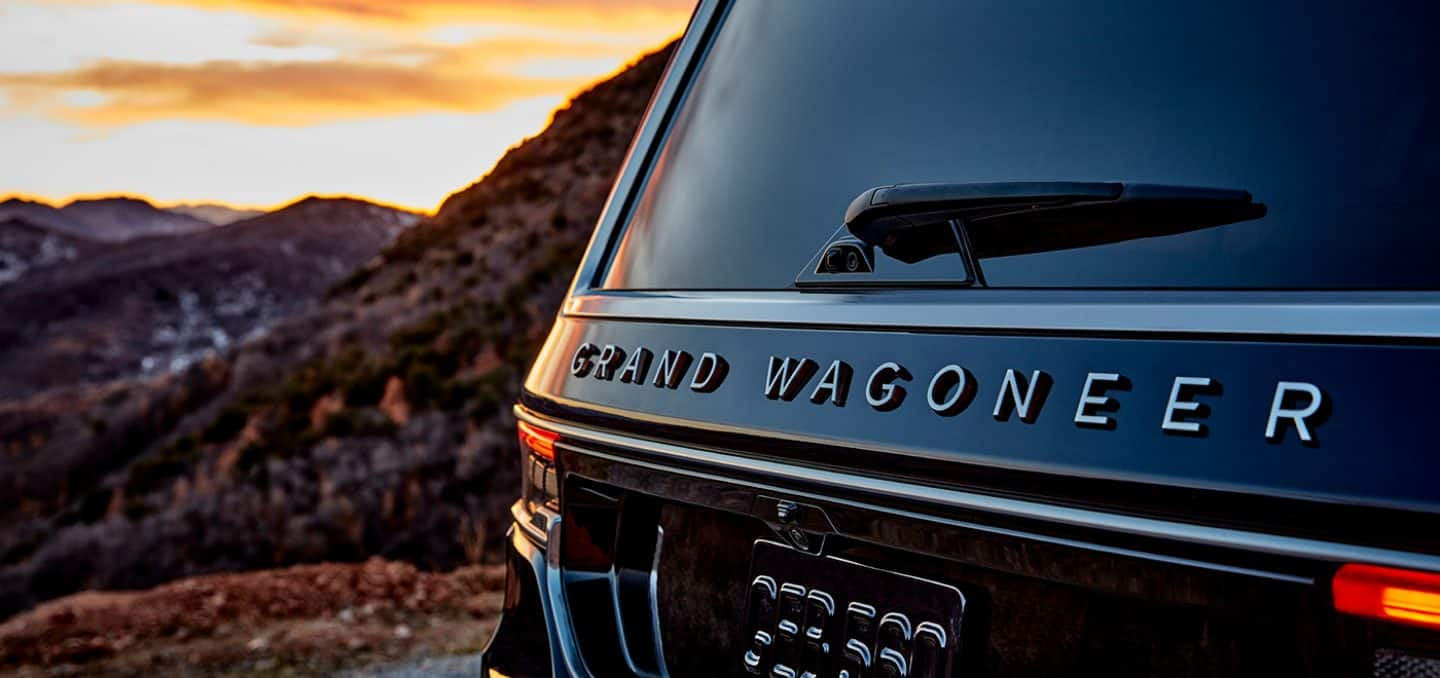 2023 Wagoneer L and Grand Wagoneer L Announced
These 3-Row SUVs Have More Space Than Ever!
For the 2022 model year, we met the all-new Wagoneer and Grand Wagoneer SUVs, based on the beloved vehicles of the same name that were discontinued in the 90s. These modern interactions of the Wagoneer were both modern and athletic, with three rows of seats stunningly appointed in all the best materials. The Wagoneer and Grand Wagoneer both had incredible features like standard Nappa leather, an all-new Uconnect 5 infotainment system, and of course, a spacious and comfortable interior. However, things are about to change with the advent of the 2023 Wagoneer L and Grand Wagoneer L! The L refers to length, as these new models are longer and more spacious than ever before, offering more room for passengers and cargo alike. Continue reading down below to learn more about the 2023 Wagoneer L and Grand Wagoneer L!
How Spacious are the Wagoneer L and Grand Wagoneer L?
As we mentioned above, the new L collection takes everything you know and love about the Wagoneer and Grand Wagoneer, and extends it! This means that the overall structure of the SUV is larger, meaning bigger dimensions for both passenger volume, and rear cargo area. Now, let's get into detail about just how much space you'll be able to enjoy with these two SUVs! Starting with the Wagoneer L, you'll have the benefit of 179.3 cubic feet of overall passenger volume! Breaking this number down, you'll have 42.7 inches of legroom for second-row passengers, and 36.6 inches of legroom for third-row passengers. When it comes to the Grand Wagoneer L, you'll be able to enjoy a minimum of 44.2 cubic feet of cargo room. Yes, you read that right, minimum! This means that even with all three rows of seats in use, you can still access over 44 cubic feet of space. This is an additional 15.8 cubic feet compared to the traditional Grand Wagoneer. On both models, you'll still be able to choose your preference of either seven or eight seats across the three rows.
What is the New Wagoneer L and Grand Wagoneer L Powertrain?
Aside from the new dimensions, the Grand Wagoneer L and Wagoneer L are also introducing an all-new powertrain that each model will feature for 2023! Recently, Stellantis pledged to reduce carbon emissions by 50% by the year 2030, and this has led to lots of innovative new technologies to help drivers drive more efficiently nationwide. In the case of the Wagoneer L and Grand Wagoneer L, this means unveiling the brand-new Hurricane engine, a 3.0-liter twin-turbo inline-six. This engine promises to deliver just as great a performance as its competitors, while greatly improving on fuel efficiency. In fact, the Hurricane is rated at up to 15% more efficient than comparable V8 engines! The Hurricane has two configurations, the first of which is the standard-output, found on the Wagoneer L. This version is rated at 420 horsepower and 468 lb-ft of torque. For the Grand Wagoneer L, you'll find a high-output version rated at 510 horsepower and 500 lb-ft of torque, and both are paired with an 8-speed TorqueFlite automatic transmission.
What Other Features does the New Wagoneer L Lineup Have?
The Wagoneer L and Grand Wagoneer L may have some exciting new updates in store, but there will also be plenty of familiar features in the mix! For example, the Wagoneer L features standard Nappa leather interior, while the Grand Wagoneer L kicks it up a notch with premium Palermo leather, and available quilted leather. The Grand Wagoneer L also features standard 4-wheel drive, while 4WD is an available option for the Wagoneer L lineup. In terms of tech, there are features that all eight passengers on board can enjoy. For example, both Wagoneer SUVs feature the latest Uconnect 5 infotainment system, with wireless Apple CarPlay and Android Auto smartphone connectivity, and an on-board Wi-Fi hotspot to keep everyone connected. You can also opt for advanced tech features such as a wireless smartphone charging pad, a temperature-controlled cooler bin, and a front passenger display that adds a second touchscreen to the dashboard! There are even available rear-seat entertainment displays to keep your passengers entertained with Amazon Fire TV.
Visit Pinckney CDJR for New Wagoneer Inventory!
If you're living in or around the Pinckney area, then come and visit us here at Pinckney CDJR! Here at our showroom, you can take advantage of our entire selection of new vehicles, including the Wagoneer and Grand Wagoneer SUVs. You can also arrange a test drive of your favorite model with a member of our sales staff so that you can try out all of its features for yourself. If you have any questions about the Wagoneer L, Grand Wagoneer L, or any of our other vehicles, our friendly and knowledgeable sales staff will be more than happy to help. Be sure to ask us about financing options, as well as our current specials so that we can help you get a great deal on your next purchase! From all of us here at Pinckney CDJR, we look forward to working with you soon!