2023 Chrysler 300C Pinckney MI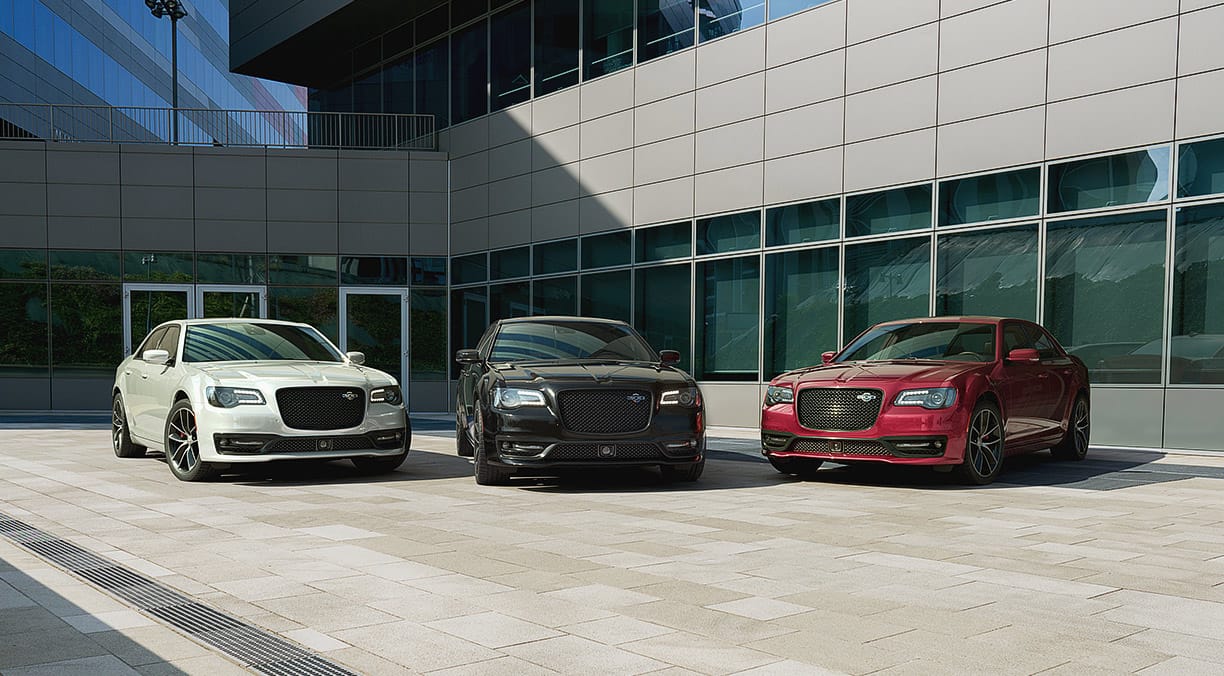 2023 Chrysler 300C
Check out our Chrysler Inventory here at Pinckney DCJR
Love the Chrysler 300, but wish it was a tad more powerful? Let's introduce you to the 2023 Chrysler 300C, which has a massive V8 engine that can pump out 485 horsepower and 475 lb-ft of torque. This engine also allows you to go from 0 to 60 mph in around 4.3 seconds, allowing you to blaze down the track. While there is a lot of power to be had with the Chrysler 300C, that's not the only reason to get behind the wheel of one. The Chrysler 300C also has Brembo brakes that will provide you with a ton of stopping power on the streets; you will also get adaptive dampers that allow the sedan to switch back and forth between a laid-back cruiser and a corner-taking sedan. Want to know more about the Chrysler 300C? Check out all it has to offer below!
Power for the Chrysler 300C
If you want power, buckle up! The 2023 Chrysler 300C comes with a potent 6.4-liter V8 that blasts out an outstanding 485 horsepower and 475 lb-ft of torque. This fantastic sedan can reach 60 mph in around 4.3 seconds and can go a quarter-mile in 12.4 seconds or less while achieving a top speed of 160 mph. One of the best things about this engine is its pairing with a Torqueflite eight-speed automatic transmission that will optimize your fuel economy while providing smooth shifts. If you are looking for a little more performance, the Chrysler 300C also comes with red four-piston Brembo brakes, a 3.09 limited-slip differential, active damping suspension, and black and rounded exhaust tips that will give you a sound like you have never heard!
What can you tell me about the features of the 300C?
Perhaps you want a little bit of luxury to go with your power. Well, the 300C has you covered with one of the most gorgeous interiors. Inside the cabin, you will be treated to Laguna leather front seats embroidered with the 300C logo and look even more impressive with the sharp silver stitching. You will also see the silver stitching on the doors and the instrument panel. Then there are the features of the 300C, which are nothing short of spectacular as it includes items like a 19-speaker Harman Kardon audio system, an 8.4-inch Uconnect infotainment system, and Apple CarPlay and Android Auto. Wondering if the 300C will keep you safe on the road? Wonder no more, as the 300C is up to the task of keeping you safe with safety systems like Advanced brake assist, Lane Departure Warning Plus, and Full Speed Collision Warning Plus.
How the exterior of the Chrysler 300C looks
In addition to its fierce engine, the Chrysler 300C is also one of the best-looking vehicles on the road! For starters, a new iteration of the Chrysler 300 badge is tri-colored and sure to dress up the exterior grille and the rear decklid. The 300C is also incredibly intimidating, thanks to its 20-by-9-inch forged wheels and all-season performance tires. Speaking of the grille, there are chrome accents on the grille plus the lower fascia. In addition, the headlamps are decked out in black, as are the taillamp bezels, sure to give it a stark look. Finally, the Chrysler 300C is available in three color options, including Gloss Black, Velvet Red, and Bright White.
Check out the Chrysler 300C here at Pinckney DCJR
There are many things drivers will love about the 2023 Chrysler 300C! The engine is one of the most powerful on the market, and plenty of great features will keep you entertained and safe. If you want to take a test drive of the Chrysler 300C, then be sure to head down to Pinckney Dodge Chrysler Jeep RAM and speak with one of our outstanding sales team members, who will be more than happy to set you up with one and answer any questions you may have about this remarkable vehicle. You can also view our entire Chrysler inventory here on our website!