2021 Wrangler Rubicon 392 Announced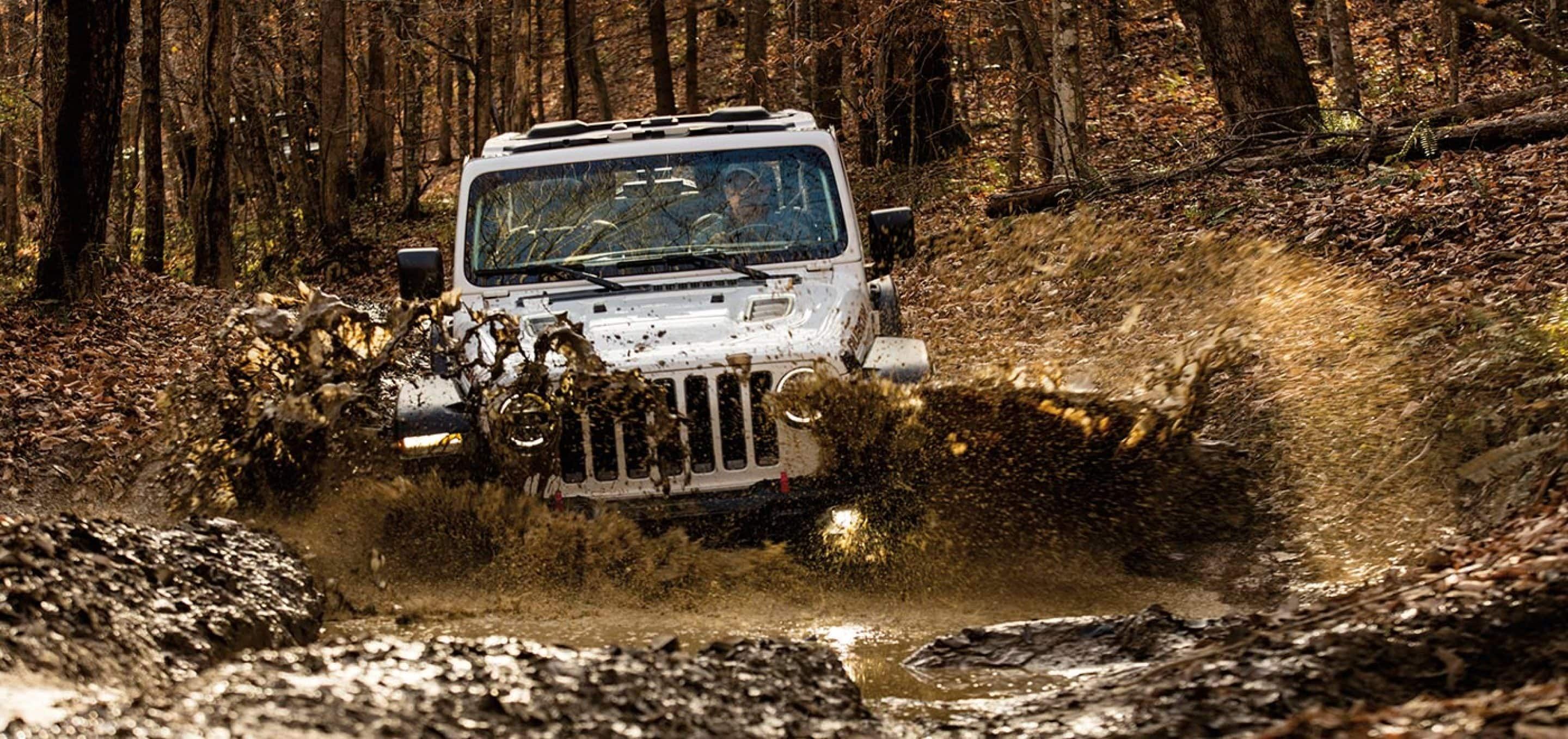 2021 Wrangler Rubicon 392 Announced
Written by Pinckney Dodge Chrysler Jeep RAM
The Wrangler has always provided its consumers with an incredible off-road experience, but in 2021 the Jeep Wrangler is rolling out the Rubicon 392, which is sure to please those looking for a soul-stirring off-road performance combined with a next-level on-road performance. The Rubicon 392 is the most powerful Jeep Wrangler of all time thanks to a massive 6.4-liter V8 engine capable of producing 470 horsepower and 470 lb-ft of torque with a Torqueflite eight-speed automatic transmission. There is even a full-time transfer case which helps rocket the Wrangler to 60 mph in 4.5 seconds or less. Once you venture off the pavement, the Rubicon 392 kicks into high gear with heavy-duty wide track Dana 44 axles, a 3.73 final drive ratio, transmission torque converter lockup control, and 33-inch tires. We have only scratched the surface of what the Rubicon 392 can do. Continue reading for more information.
A ton of raw power
With the strong V8 engine, the Wrangler Rubicon 392 is one of the most powerful SUVs on the planet. Crucial to the on and off-road performance of the Rubicon 392 is that nearly 75 percent of the SUVs peak torque is available slightly above idle engine speed. This allows the Wrangler to get up to 60 mph in 4.5 seconds and help it crawl up steep grades. The V8 engine has a cast-iron cylinder block and aluminum heads accented with an active intake manifold, variable camshaft timing, twin spark plugs per cylinder, and sodium-filled exhaust, hollow-stem intake valves. The engine also comes with Fuel Saver Technology that seamlessly shifts to high-fuel-economy four-cylinder mode when engine loads are light, like cruising down the highway. Also standard is an active dual-exhaust mode, which delivers an exhilarating and unmistakable sound. The system also engages automatically.
Performance-oriented
The Rubicon 392 comes with a Torqueflite eight-speed automatic transmission, which provides crisp gear changes during normal and high-performance driving conditions. This wonderful transmission also enables the driver to quickly change gears via the new steering wheel-mounted aluminum paddle shifters, a first for the Wrangler. Additionally, this sophisticated transmission provides you with several input parameters to determine the appropriate driving conditions while also adjusting the shift patterns. Also included with the transmission are Torque Reserve and AMax shifting, which is accessible when doing a brake torque launch, so you get maximum acceleration and torque. Both of these systems are normally reserved for drag racers but come standard on the Wrangler Rubicon 392.
Power fit for a Rubicon
The Rubicon 392 sends power to all four wheels at all times with a Selec-Trac full-time, active transfer case with a 2.72 low-range gear ratio sitting at the heart of it. When off-road, the Rubicon 392 delivers unmatched off-road capability that includes an Off-road Plus with Sand and Rock modes, which is available with the touch of a button. These modes adjust the throttle, transmission shift points, and traction control, so the Rubicon 392 delivers peak performance when it comes up against sandy terrain or low-speed rock crawling. Also, coming with the Rubicon 392 is a Selec-Speed Control system activated by pressing a button on the dashboard and adjusted using the Electronic Range Select shift control.
The most durable frame ever
The Rubicon 392's chassis includes upgraded frame rails and front upper control arms that take full advantage of the Rubicon 392s power and torque. There are heavy-duty brakes that can bring the SUV to a composed stop no matter what kind of terrain you're on. The off-road prowess flows easily from the wide track, heavy-duty Dana 44 front and rear axles that include thicker axle tubes, and Tru-Lok electronic locking differentials. There is an electronic front sway bar which maximizes suspension travel during the most demanding off-road conditions. You even get a 2-inch factory lift while also being fitted with specially-tuned high-performance FOX aluminum monotube shocks that maximize handling and comfort.
Get the Rubicon 392 at Pinckney Dodge Chrysler Jeep RAM
You can get the Wrangler Rubicon 392 later in the model year, and once it's released, you can get it right here at Pinckney Dodge Chrysler Jeep RAM. In the meantime, you can check out all of the trims of the 2021 Jeep Wrangler. The Wrangler is one of the most powerful SUVs on the planet, and we highly recommend taking a test drive. Head down to our dealership today and schedule a test drive with one of our representatives. You can also check our entire Wrangler inventory
here on our website
.