2019 RAM 1500 at Pinckney Chrysler Dodge Jeep Ram
Setting the benchmark for technology, durability, features, convenience, and efficiency in the world of trucks is none other than the 2019 Ram 1500. With an inventive design, high-quality material construction, and class-exclusive technology gives the 1500 an overall unique appearance and utterly improved set of aerodynamics. The Ram 1500's front end has been adorned by the iconic Ram grille, a chiseled Ram's head log, and an adaptive fully LED front-lighting system that greatly augments the capabilities of the 1500 with tail lamps, twin bi-functional projector headlamps, and fog lamps. New for the 2019 model are toggle switches, a switch bank with an included wireless charging dock, five USB ports, and four C/A ports.
Engine Performance
305 horsepower
Payload of 2,300 pounds
Tows up to 12,750 pounds
Safety Features
Ready Alert Braking
Forward Collision Warning
ParkSense Park Assist
Vehicle Design
Elevated hood
Venturi roof design
67.1 decibels cabin noise
What kind of features does the 1500 offer?
The 2019 Ram 1500 has been redesigned inside and out, beginning with a re-engineered frame that's been designed to be the most efficient, the lightest, and the longest vehicle in the half-ton truck segment while also being more durable, stiffer, and a hundred pounds lighter overall. Cabin noise is reduced to 67.1 decibels while air is more efficiently directed away from the wiper area thanks to a newly elevated hood while the new venturi roof design better directs incoming air towards the rear spoiler. There are three available extended frame lengths that make for the roomiest of cabins available to the segment; the Crew Cab's 144.5″ wheelbase short bed, the Quad Cab's 140.5″ wheelbase, and the 153.5″ wheelbase long bed. Even with the elongated frames, the 1500 maintains a turning radius that is surprisingly only 46.2 feet. What's more, the newly aluminum tailgate is outfitted with damping features that integrate oil- and nitrogen-charged strut with lift assist for a consistent lift no matter the climate it finds itself in. The tailgate latch-and-lock mechanism can now be dropped at the press of a key fob or flip of a switch thanks to it being updated to an electric mechanism.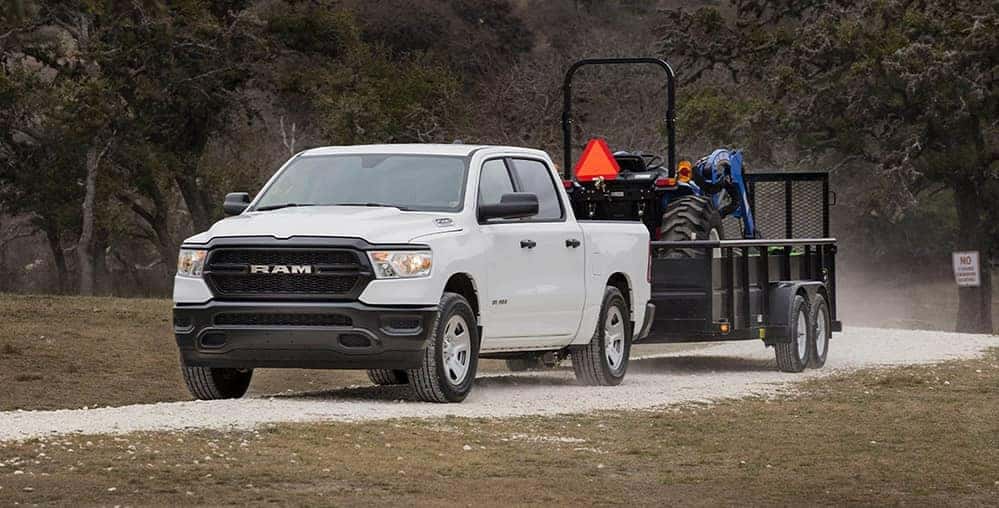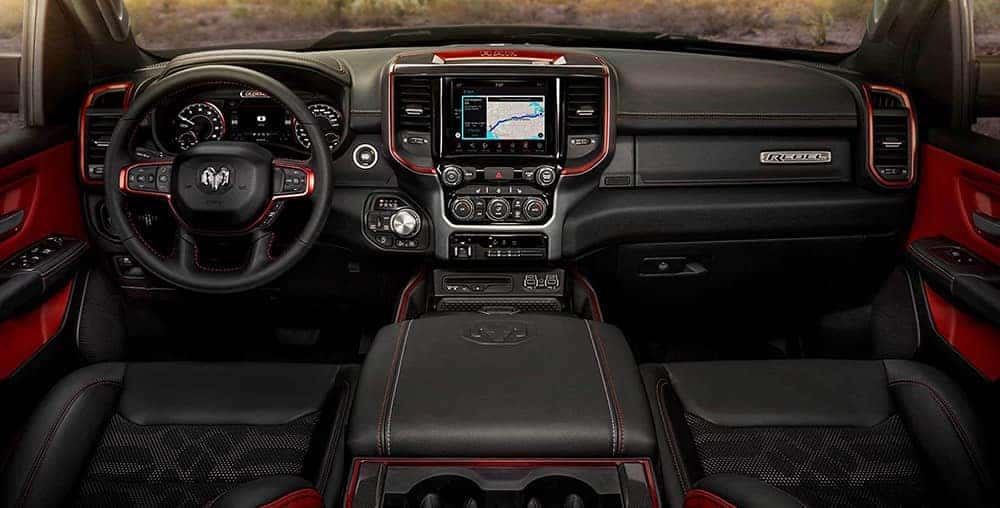 How powerful is the 1500?
When you're looking to get something done, it's always good when your vehicle is actually able to do it. To that end, there needs to be an engine with enough get-up-and-go under the to make that possible. The standard engine that the Ram 1500 comes with is an eTorque-equipped version of the Pentastar V6 along with an eight-speed automatic transmission, which more than gives it the power it needs to get most any task done at 305 horsepower and 269 pound-feet of torque. With an advanced design utilizing wide-range variable timing and a two-step variable valve lift, the Pentastar engine is able to deliver a perfect blend of optimized fuel economy and straight power. But power isn't very helpful if it can't be controlled, though that's not a problem with the impeccable handling and responsiveness offered by the now independent front suspension. Exclusive for the 2019 Ram 1500 is a third generation five-link rear solid suspension design providing better lift over oncoming obstacles than the previously utilized leaf spring system, while at the same time being able to handle towing up to 12,750 pounds or carrying a payload of 2,300 pounds.
How safe is the 1500?
Safety is a serious matter for the 2019 Ram 1500, starting with its splayed frame rail technology which absorbs and disperses impacts as efficiently as possible. Steel tire blockers that have been mounted to the frame behind the front tires are able to force the wheels outward during an impact, thus minimizing any furth damage as much as possible. There are also over a hundred other safety features available for the 1500, just a few of which include Hill-start assist, trailer-sway damping control, ParkSense Park Assist, Forward Collision Warning, and Ready Alert Braking.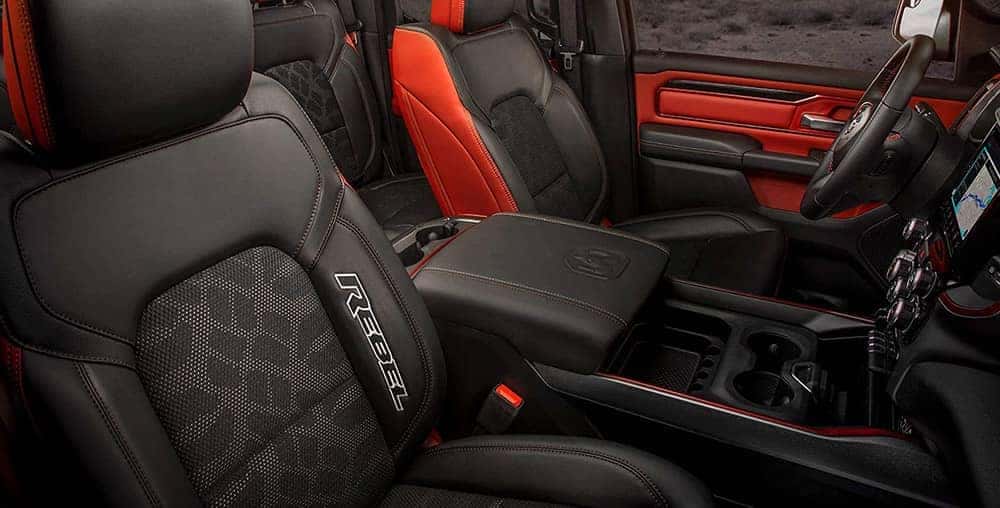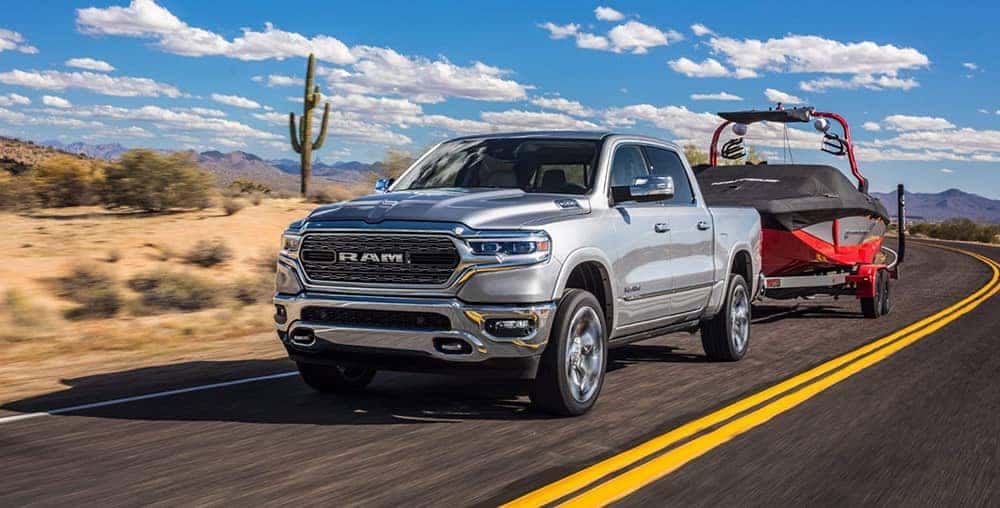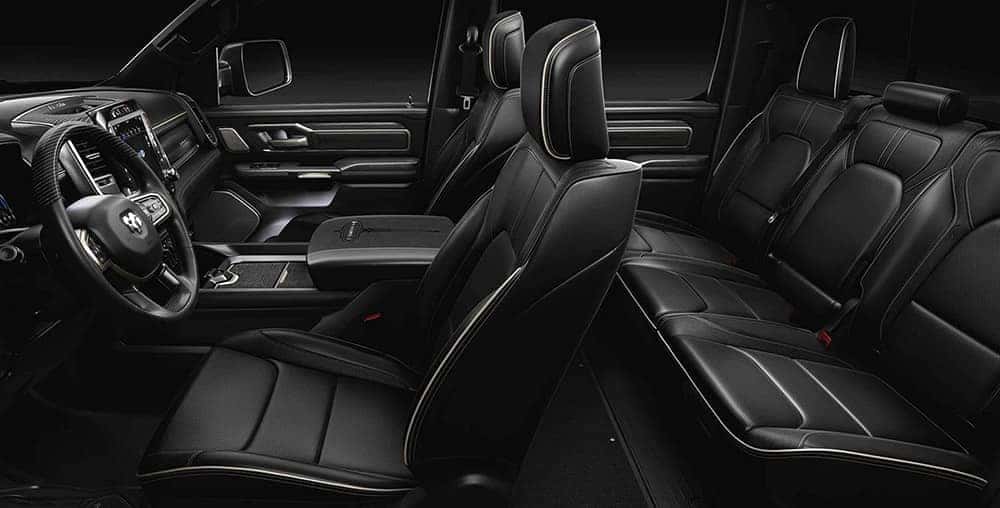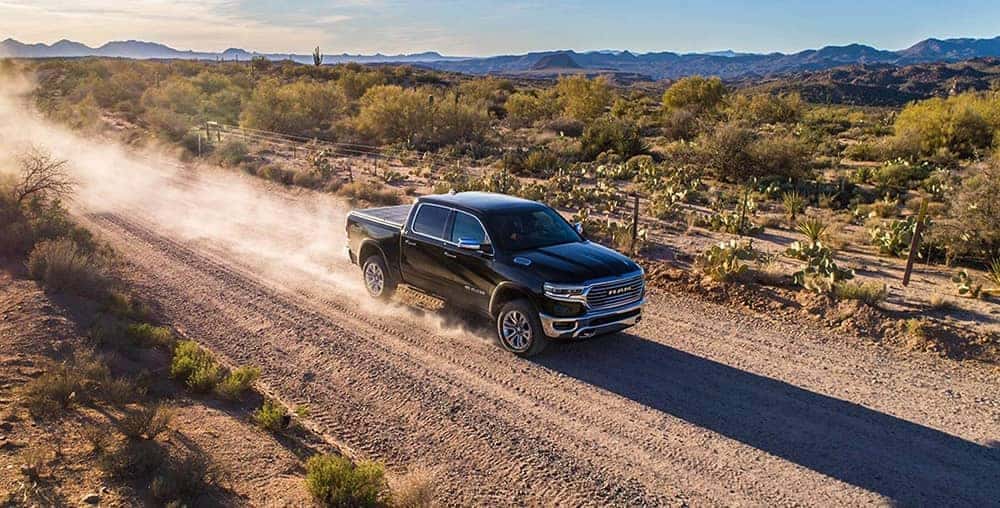 Final Thoughts on the 2019 RAM 1500
With an all-new design and set of features, the 2019 Ram 1500 is ready to set new benchmarks for the pickup segment as a whole with capability and ingenuity rolled into one package. For more features than you can shake a stick at, safety that's always ready, and power that's hard to match, you'll want a Ram 1500. To learn more about the 2019 Ram 1500 stop by or contact us today.
---